On Giving up the Luxury of Knowing
by Stafford Ordahl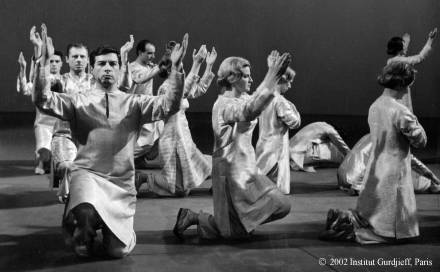 Mr. Gurdjieff is reported to have said, "Every phenomenon has seven aspects." In discussing the effort of playing for Mr. Gurdjieff's Movements, I would like to confine myself to one aspect: State.

Does this sound familiar? Earlier today I had an argument with a friend, this afternoon my boss told me there will be no raise this year, and just now, the Movements instructor didn't acknowledge me when I walked into the room. To make matters worse, he now announces he wants to start with a movement for which there is no music—I have to improvise. How can I find corresponding music in my state? Suddenly, I go from feeling down to feeling fear.

Where do I go to find what I need? To my head, of course. It's like going to the attic of my house and rummaging around in the trunks up there to find something that will do.

But the head's contribution is simply not enough. I need the attention of the other parts to play for movements. The body actually, physically, plays the piano, but is tense in response to the emotions which are cranked up in fear. The feeling is the only part of me that is subtle enough to perceive the Movement but it is not available to me right now.

These are hardly the ideal conditions for expressing the Sacred.

I begin to play—from my head—and the music is stale, dead and routine. The instructor looks over at me, which only serves to make me clutch up all the more.

What to do?…
[The complete text is available in the printed copy of this issue.]
~ • ~
Copyright © 2002 Stafford Ordahl
This webpage © 2002 Gurdjieff Electronic Publishing
Featured: Spring 2002 Issue, Vol. V (1)
Revision: April 1, 2002
Stafford Ordahl joined the Gurdjieff Foundation in New York in 1960, where he was a member of Dr. and Mrs. William Welch's group. Soon thereafter, he began his studies of playing the Gurdjieff/de Hartmann music and playing for the Movements with Mrs. Annette Herter (a pupil of Gurdjieff and Thomas de Hartmann). In the early 1970s, he studied with Yvette Grimaud, who accompanied the Movements in Paris. In recent years, Ordahl has participated in public concerts of the Gurdjieff/de Hartmann music in Miami, Toronto, Phoenix, and New York. He travels frequently to various cities in the United States and abroad to share his understanding of the work on music.