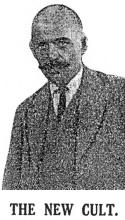 NEW CULT.

Forest Temple of Hard Work and Rough Food.

by E. C. Bowyer

[Number 1 of 4]
[The first of four articles by journalist E. C. Bowyer, the Daily News (London) Feb. 15, 1923, p. 1. Bowyer describes Gurdjieff's Institute for the Harmonious Development of Man which had opened five months earlier. The article begins with a description of the Study House and the spartan daily life at the Prieuré. Bowyer is shown around by A. R. Orage, who he interviews and quotes.]
Famous Disciples.
In the following article a Special Correspondent of the Daily News reveals some of the leading facts relating to a remarkable new cult which has attracted to itself many Englishmen and Englishwomen bearing well-known and even famous names. The leader of the movement is Gurdjieff, an Eastern philosopher-mystic, and the article describes the "Study House" in the historic Forest of Fontainebleau, some 40 miles from Paris, where his disciples follow a course of hard work and harder fare.
THE STUDY HOUSE.
Music, Light, Colour and Perfume.
From Our Special Correspondent, E. C. Bowyer.
FONTAINEBLEAU, Tuesday.
"FOR some of us the building is a temple; for others a theatre. Some of us meditate; others dream, and many worship, but we all learn." It was so my Russian friend spoke of the "Study-House" built by the extraordinary community I had come to visit, and centre of all their activities. I found the Study-House deep in the beautiful forest of Fontainebleau and met some of the men and women—doctors, artists, writers, and thinkers—who have made it their retreat. Their dress is coarse and their lives are strenuous, but all are intent upon the harmonious development of personality on its three sides in accordance with the philosophy of Gurdjieff, their leader.
From Pen To Spade.
In a quiet lane near Avon I had met A. R. Orage, until recently editor of the New Age, and now a member of the colony. He was in rough corduroys and wore no collar, and a first glance at his hands told at once that he had changed the pen for the spade. The Study-House may be spoken of first. Imagine a plain, square building, to hold, perhaps, 300 people. In the centre a fountain, illuminated by constantly changing coloured lights, and making pleasant music; the floor carpeted with costly Eastern rugs. Around the walls are divans, with here and there an alcove with rich tapestries. The windows are painted over with Arabic designs, and soft light comes from hidden electric globes. Some sweet perfume pervades the whole interior. Here it is that Gurdjieff, the Master, talks in the evening with his students, who recline around him, and here, too, take place the extraordinary dancing demonstrations, of which I will speak in a further article. The members of the colony live at the Priory near by, and it was in showing me about that Mr. Orage talked to me of the two men whose influence has called the settlement into being—Gurdjieff and his disciple Ouspensky.
A Bridge Seeker.
"Ouspensky was a Russian novelist and a mathematician, who was also a mystic," he told me. "He sought for many years a bridge between Western Rationalism and Eastern Mysticism." "After studying philosophies of the West he went for a year to India, but returned unsatisfied to Moscow, where he first met Gurdjieff, and found in him what he had been looking for all his life—a teacher who could solve his problems." "Gurdjieff, who is of Greek origin, after years of studying in Persia, Afghanistan, and Baluchistan, discovered in Thibet 15 years ago a school of thought which completed his own system, and then went back to Russia to undertake his work for mankind." "Man, according to Gurdjieff, is three-fold—body, mind, and emotion. In most Western peoples mind is overdeveloped, with a corresponding underdevelopment of the emotional and the physical senses." "His first object is development of the body and the emotions, and from this point of view has been thought out the training of the students and the planning of the settlement." Gurdjieff's students—that is, those who have placed themselves unreservedly in his hands—lead Spartan lives. Mr. Orage told me that he has worked harder than a navvy since he joined the community. This work is intended to develop the body, as he believes that "great thought" put into an unhealthy body becomes corrupt. The students sleep in rooms bare of all but the utmost necessities, and their meals are extremely frugal. The lunch which I shared today consisted simply of Russian soup, bread, and large draughts of "buza"—a fermented cow's milk similar to "kouminn". This is eaten round a common table with iron spoons.
Rough Fare.
Literary men, barristers, doctors, and other cultured people, in the roughest attire, today ate a meal which an English working man would scorn. Most of the work is farm work. The colonists have cows, goats, sheep, pigs, and chickens to care for, and kitchen gardens are to be cultivated on the 45 acres surrounding the building. The women students, of whom there are several, are dressed in very plain, but orthodox, costumes, and they, too, work here during the day before attending the Study House in the evening. A Russian Princess is there, and other students are a French danseuse and the two daughters of a Russian baron.
A Healing Side.
There is a healing side to the work, and this is under the care of Dr. Stjoernval, at one time director of a large electro-massage institute in Finland. It was here that Miss Katherine Mansfield, the novelist, spent her last days, "which," Mr. Orage told me, "were probably among the happiest times of her life." Mr. Middleton Murry, her husband, was with her here when she died. He is intensely interested in the work and is a constant attendant at Ouspensky's London lectures.
Well-Known Names.
Others who are deeply interested are J.D. Beresford, Algernon Blackwood, and J.W.N. Sullivan. Some of them, I hear, are thinking of coming over, but, of course, it means complete severance from one's normal life. Lady Rothermere has also been here, but her interests are so wide that she found it impossible actually to become a student. Dr. Maurice Nicoll, the well-known psycho-analyst, has visited the settlement and at the present moment Dr. Young, a Harley-street specialist, is here.