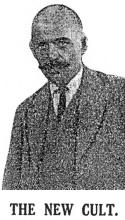 NEW LIFE CULT.

For "Harmonious Development."

by E. C. Bowyer

[Number 2 of 4]
[The second of four articles by journalist E. C. Bowyer, the Daily News (London) Feb. 16, 1923, p. 1. Bowyer describes the various stages of instruction at the Institute, the participation of children, the practice of movements, and the occasional wonderful feast.]
FEASTS AND FASTS.
Psychic Examination and Music.
From Our Special Correspondent, E. C. Bowyer.
FONTAINEBLEAU, Thursday.
THE Company of the Harmonious Development, members of the interesting community which I described yesterday, may be divided into three categories. At the moment the majority of the students are in the first and most important group—those who have placed themselves in the hands of the "master," Gurdjieff, and obey his instructions implicitly in their progress towards perfection. The other two categories, broadly speaking, consist of interested visitors and those who desire to follow only a partial training.…
[The complete text is available in the printed copy of this issue.]