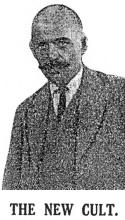 NEW LIFE CULT.

"The Master" On His Forest School.

by E. C. Bowyer

[Number 4 of 4]
[The last of four articles by journalist E. C. Bowyer, the Daily News (London) Feb. 19, 1923, pp. 1, 3. Bowyer quotes extensively from an interview with Orage, who introduces Gurdjieff's distinction between essence and personality to explain why people are dissatisfied with ordinary life.]
"ESSENCE."
The True Source of Love.
From Our Special Correspondent, E. C. Bowyer.
FONTAINEBLEAU, Sunday.
IF I tried to picture to myself the effect produced on the mind of the reader by my description of this remarkable colony at Fontainebleau, brought together by a common desire to realise an ideal of perfected consciousness and living, I should judge that he would be saying that it is all picturesque and interesting to a point, but that not enough has been told him of the teaching of the Prophet who may be called its spring of inspiration. I had desired from the first to talk to M. Gurdjieff himself, but after three days it was only at midnight on Thursday that I was able to see him, and then under circumstances, already described, which gave no opportunity for what I wanted. In the very early hours of this Sunday morning, after his work with his pupils in the Study-House was over, he invited me to his room at the Priory, and talked to me at length.…
[The complete text is available in the printed copy of this issue.]