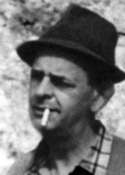 Michel Conge


1912–1984

Dr. Conge was a French physician and prominent french pupil of Gurdjieff.
In this penetratingly evocative account, Michel Conge shares with us impressions of what it was like to be in the presence of Gurdjieff, to be a direct recipient of the inner shocks that he induced, shocks which revealed the uncompromising truth of one's inner state, yet Gurdjieff brought this about in such a way that he left room for Mr. Conge to experience the reality of his being.
A French physician and pupil of Gurdjieff, Michel Conge led groups in Paris for many years until his death in 1984. These excerpts from group meetings are taken from Ricardo Guillon's recently published book, Record of a Search: Working with Michel Conge in France.
"This body-machine has been given to me so that I can try and recognize myself as attention, and so that, at this level of ordinary life, three unconnected currents of attention can come together."
This webpage © 2004-2015 Gurdjieff Electronic Publishing
Revision: October 26, 2015