Jacques Regis Etievan
Anne-Marie Grant
ed-headed Jacques was born in a little village in Normandy, France, on the 8th of March 1920. His father was a theater actor and his mother a kind woman dedicated to her home, where he grew up with an older brother and a younger sister. Graduated in Letters from the Sorbonne University of Paris, he started working in the radio department of a publicity agency called "Hermes" from 1942 until the end of the Second World War in 1945.
Both Jacques and his brother, Alfred, became interested in the Gurdjieff Work through Philippe Lavastine, and eventually started going to Mr. Gurdjieff's Paris apartment in the evenings. Jacques was called the "Procureur" by Mr. G. and given the special task of taking notes during the meetings of the 1940s while the war was still raging in Europe. Some of these notes have been published.[1]
Following the war, Jacques decided to leave France in 1946, as there were no commercial activities and few opportunities for business. He first went to Brazil to start a new life but stayed just a few months, and in January 1947 he emigrated to Venezuela. There, Jacques started working in a French oil company and learned the Spanish language. He then decided to travel across the whole country to make a living selling outboard motors for boats and after a while settled in northeastern Venezuela to make a living working as the head of a noodle factory.
In 1950, Jacques moved to Caracas where he bought a bar. Soon after that, my mother, Nathalie de Salzmann, along with my two brothers and me, came to join him in Caracas. He then became administrator of a French bookstore, followed by a lovely store that sold Japanese goods and finally a pet shop. Jacques and Nathalie married in 1954, and together they had two daughters. They built a big house in the outskirts of Caracas, already thinking of having groups and movements classes there.
Jacques then met Luis Beltran Gonzalez who was the head of a big advertising agency called "Corpa," and started to work in the radio department. From there he was quickly moved to the television department, which was making its appearance in Venezuela. He was fascinated by this new medium. His vision and understanding of human psychology made him understand the potential which existed in this new form when others did not. This coupled with his tremendous work capacity enabled him to quickly climb the corporate ladder so that within a few years he became the Vice-President and then the President of what became, under his leadership, the biggest advertising agency in the country.
In January 1969 the government decorated Jacques with a medal from the Order of Francisco de Miranda and in April he received the award of "Man of the Year in Publicity" from the International Association of Publicists of Venezuela with unanimous recognition for his social, economic and cultural contributions. He then explained his simple philosophy as an advertiser: "What is essential to sell a product is to know the role it has in the consumer's life." At the same time, he said that the most fascinating aim for a publicist was to contribute to the development of human beings.
In 1971, he was the first Venezuelan to become a member of the Academic Advertising Age's "Creative Workshops" in Chicago. He was also president or director of many agencies, festivals, and congresses.
Through his own work, his vital interest in everything, and the force of his personality, Jacques made numerous friends in all sectors of society. He was a human being who had a rare capacity of connecting with everybody by his genuine interest in each person and each situation. He had a keen intelligence coupled with great kindness and generosity toward all.
All my life I remember not being able to go anywhere with him, be it a movie theater, a restaurant, a bullfight, shopping, or just walking in town, without being accosted several times for many different reasons: from asking a favor to just the telling of a joke, to a serious exchange. Sometimes it felt as if we had no privacy being with this very gregarious public man, who stopped to interact with each person as if he had nothing else to do.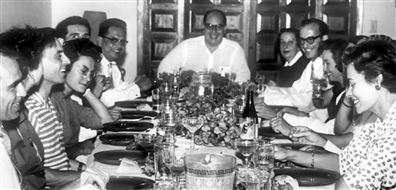 While deeply engaged in many activities in his personal life, Jacques' interest in the Work ideas continued. He was a great supporter of Nathalie as the Gurdjieff groups began to be formed in Caracas. Eventually, he and Nathalie did tours of South America, where he was a wonderful speaker and through his talks on the ideas of Mr. Gurdjieff, he attracted many people, initially starting in Rio de Janeiro, Buenos Aires, Santiago de Chile, Lima, and Bogota. For several years he accompanied Nathalie on these trips until his career became more demanding, and she began to sustain these groups on her own.
His love of life and ebullience manifested in all of Jacques' interactions with a great force de vie and attracted people of all ages toward him. He had the capacity to put the Gurdjieff Ideas in vivid and direct terms, so that all could relate to them. He made it appealing but at the same time he was always challenging one's understanding and affirmations by asking penetrating questions.
Life with him was interesting because he could suddenly make totally unexpected decisions. For example, he would take our family out for a ride in a car, and then we would end up in another city, spending the night in a big hotel and having to buy pajamas, toothbrushes, maybe even a bathing suit—always fun unexpected adventures!
Jacques was also capable of playing a role for his own ends without fear or any inner considering. Travelling with him was full of instances where he would make a big fuss, or a yelling session would ensue over situations that he wanted to change. For example, on arriving at a hotel, the room we were given was too small or had a bad exposure, and sure enough, he would always obtain for us a better one by using his theatrics freely.
Something that was very inspiring for everyone was the extraordinary intensity of life he brought in all activities. As a young woman in my twenties, I remember being at parties waiting for Jacques to appear: it was never so lively as when he finally came and only then did everything became colorful and interesting. So it was also the moment he arrived home in the evenings, bringing an explosion of energy through the house.
In the early seventies he started to get involved in politics and he became a close publicity agent and advisor for the presidential candidate Carlos Andres Perez, who eventually became President of the country.
Jacques did not have a son, nor did his siblings, and he wanted the family name to continue. So, at the end of 1972, he and my mother adopted a lovely baby boy who gave him enormous happiness for the last few months of his life.
In July 1973, Jacques died of a heart attack. His life was suddenly cut short at a young age while he was still ascending toward new heights. His death left us all in shock and with an enormous emptiness that has never been completely filled. He showed us what generosity of the heart can mean, and also that it is possible to participate both in a search for something higher and be fully engaged in all aspects of one's life.
~ • ~
Anne-Marie Grant is a member of the Gurdjieff Foundation of New York. The daughter of Nathalie de Salzmann and Philippe Lavastine and stepdaughter of Jacques Etievan, she spent her childhood in Caracas, Venezuela where she earned her degree in Medicine with a specialty in Endocrinology.