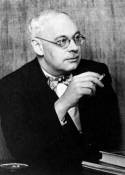 The Strange Cult of Gurdjieff

An Insider's Story of the Most Mysterious
Religious Movement in the World

by Armagnac
What has usually been printed about Gurdjieff, who has tried to translate Eastern knowledge into Western psychology, has been highly fanciful and mostly tosh. Practical Psychology Monthly here presents an article, not by a journalist hastily writing up the impressions of a single interview with Gurdjieff, but by a student who for twelve years was a member of the cult1 that attracted so much attention in Paris, London, Berlin and New York. The subject has never before been so thoroughly covered in a magazine article. [Editors of Practical Psychology Monthly]
Probably you have never heard of G. I. Gurdjieff. It's largely because the man shuns publicity. The newshawks have descended upon him from time to time; there have been stories in the New York newspapers and in the news-magazines. But the pickings have been scanty. There have been a few articles about his Institute for the Harmonious Development of Man when it was functioning at Fontainebleau, France, but they have been written by visitors who stayed there for only a very brief time. Recently a book2 devoted to modern religious leaders carried a chapter about this enigmatic teacher of psychology, but this chapter like most that has been written about Gurdjieff is highly fanciful.
But if little has appeared in print about this man (or superman, as some of his followers think), much has been gossiped about him in the great capitol cities, Paris, London, New York and Chicago. The fantastic tales I have heard! Usually, without a speck of truth in them. But Gurdjieff is like that—a legendary figure. Many people have called him a charlatan; some think he is a hypnotist who exploits his followers; some, including very shrewd and highly intelligent persons, say frankly that he is the greatest man alive. To the present writer Gurdjieff is an enigma, a strange individual about whom it is impossible to make up one's mind.
The present writer has followed at firsthand Gurdjieff's career for twelve years. He belonged to the Gurdjieff groups in New York City. He spent one summer at Gurdjieff's chateau at Fontainebleau. He has read and re-read the big book written by this Caucasian Greek which is entitled The Tales of Beelzebub to His Grandson. He has learned to do some of the sacred dances performed by pupils of Gurdjieff.…
[The complete text is available in the printed copy of this issue.]
Copyright © 1937 Practical Psychology Monthly
This webpage © 2000 Gurdjieff Electronic Publishing
Featured: Spring 2000 Issue, Vol. III (2)
Revision: April 1, 2000