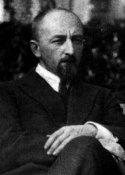 On Thomas de Hartmann

by Thomas C. Daly and Thomas A. G. Daly
For a long time I have known that our interior world is the soil in which the seeds of art take root. Without this seed in which the magic part of life is hidden and from which a work of art can be born ... there is no Art, there is no Music.

Thomas de Hartmann
Thomas Alexandrovich de Hartmann was born in 1885 on the family estate, which bordered on the village of Khoruzhevka, east of Kiev in the Ukraine. He showed his inclination for music at the age of four and liked to express himself by musical improvisations. Fairy-tales haunted him from his childhood and were to become a recurring theme in his work. Perhaps influenced early by his German great-uncle, Eduard von Hartmann, author of The Philosophy of the Unconscious, he had a deep longing for 'something' unknown in ordinary life, a longing that never left him.
His early memories were of growing up among cultured people, close to the land and surrounded by the peasants and craftsmen of Old Russia. He was always grateful to have experienced the interdependence of life so close to nature, and to have known the spirit and style of living of the people, so well described, he said, by Chekhov.
This happy base of life continued until he was nine, when the death of his father, who was a captain in the Imperial Household Guards, obliged his mother to enrol him as a boarding student in the military school in St Petersburg from which his father had graduated. There his special talent was soon recognized and he was permitted to spend all his spare time on musical studies.
He was only eleven when Anton Arensky accepted him as a pupil for harmony and composition, and Thomas continued to study with him until Arensky's death in 1906. It was at Arensky's that he first met Sergei Taneiev, with whom he later studied counterpoint. He also worked with Anna Esipova-Leschetizky on piano technique.
In 1903 Thomas received his diploma from the St Petersburg conservatory, then under the direction of Rimsky-Korsakov. In the same year he graduated from military school as a junior Guards officer, with years of active service ahead of him. None the less, he found time to compose and to enter into the musical and theatrical life of St Petersburg. The first notable public performance of his work took place in his graduation year, when he wrote the incidental music for the Imperial Theatre's production of the Dumas tragedy Caligula. He also wrote piano preludes and settings for songs of Russian poets, which were published by Jurgenson and Zimmerman.
A year or two later, when Arensky was writing to Taneiev about de Hartmann, he commented:
Take note that at the end of his very first composition, a prelude in A-flat major, published by Jurgenson, there are five or six notes that do not exist on any piano whatever. The keyboard would need to be extended about seven inches to accommodate them. Now he knows his instrument better, and plays it very well, but his attention is still inclined to wander.
Nevertheless, Thomas prospered under Arensky's tutelage. His most striking success was his ballet, The Scarlet Flower, premièred in 1907 by the Imperial Opera of St Petersburg in the presence of the Tsar, with Legat, Pavlova, Karsavina, Fokine and Nijinsky in the cast.
In the previous year he had married Olga Arkadievna de Shumacher, and he and his wife were happily surprised when, in recognition of his talent, the Tsar authorized Thomas's release from active service to the status of reserve officer so that he could devote his full time to music. This enabled him to fulfil his great wish to study conducting in Munich with Felix Mottl, a personal pupil of Wagner and musical director of the Opera.
From 1908 to 1912 the de Hartmanns spent the main part of each year in Munich, where Thomas was deeply influenced in new directions:
To my great surprise, I took myself to account and began to realize that all that had attracted me in my youth, all that I had dearly loved in music, no longer satisfied me and was, so to say, outdated.

At that moment, two events took place in Munich, and it was these which left a trace on my artistic path. The first was a great exhibition of paintings by van Gogh, Gauguin and Cézanne, at that time still completely unknown, and the second, soon afterward, was my meeting with the Russian painters Yavlensky, Verevkina and especially Kandinsky, with whom I remained friends until his death.
The intensity and depth of this relationship, and its meaning for his life, is hinted at in a remark about Kandinsky by his wife, Nina, in later years:
As far as I can remember, among all his circle of friends, there was only one whom he ever addressed by the familiar second person singular, and only one who addressed him likewise: the Russian composer Thomas von Hartmann. Even with his closest painter friend, Paul Klee, Kandinsky, who was revolted by all excessive familiarity, kept always to the formal plural—even after several decades of deep friendship.
In those years in Munich Thomas wrote a choreographic suite, Daphnis, Narcissus, Orpheus and Dionysus, which was presented at the Odeon. Also at the Odeon, at Kandinsky's urging, Alexander Sacharoff performed his newly created solo Danses plastiques to music written for him by de Hartmann. During his last two years in Munich, Thomas planned and sketched the music for Kandinsky's experimental stage project, The Yellow Sound, which did not find a producer before war intervened. He was also an integral part of the avant-garde publication Der Blaue Reiter (The Blue Rider) by Kandinsky and Franz Marc, for which he wrote an article, 'On Anarchy in Music.'
After the death of Thomas's mother, the de Hartmanns returned to St Petersburg in 1912. With a fresh 'palette' of his own, Thomas was busily occupied with new compositions when he met Gurdjieff in December 1916. He recognized at once in Gurdjieff the teacher who could bring him what he had long been searching for, a search shared by his wife. The two of them gave up their life of comfort and luxury to work with Gurdjieff, and followed him wherever life took them for the next twelve years.
In 1929, as with numerous other senior pupils, Gurdjieff made it necessary for the de Hartmanns to leave his Institute and become completely self-dependent. Thomas made a living writing scores for commercial films under a pseudonym while he continued to compose his own works. He and Olga survived World War II in Garches, near Paris. They lived in a deserted house because the Germans had occupied their own, but a piano was there and, inspired by Verlaine, Proust, and James Joyce, Thomas set their works to music and also worked on his opera, Esther.
After the war the de Hartmanns began to have a lively and successful musical life in France, with performances of Thomas's songs, chamber works, concerti and symphonies in concert hall and on radio. They had begun a warm and close friendship with Pablo Casals, which promised many happy exchanges, when another turn of fate uprooted them again. Gurdjieff died on 29 October 1949. The decision was taken with Jeanne de Salzmann that the de Hartmanns would move to America to support the Work there.
The last few years of Thomas's life were based mainly in New York. He organized the first private publications of selections from the Gurdjieff / de Hartmann music and also issued a number of records of it played by himself. The work with the groups did not slow his personal creative activities. An invitation from Frank Lloyd Wright brought Thomas to Wright's architectural school in Arizona, where he lectured to the students on the interrelatedness of the arts. His orchestral music was performed in several North American cities, and in New York he played his own sonatas on the radio. He died unexpectedly in 1956, a few days before an important concert of his music in Town Hall. The concert was not cancelled and, fittingly, celebrated his music and his life in memoriam.
Copyright © 1992 Thomas C. Daly and Thomas A. G. Daly
This webpage © 1999 Gurdjieff Electronic Publishing
Featured: Summer 1999 Issue, Vol. II (4)
Revision: July 1, 1999