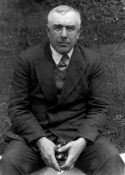 Strange Life of Ivan Osokin
Although so deeply committed to writing that he often said, not altogether jokingly, that it was actually a part of his nature, P. D. Ouspensky was not a prolific author.
Only five major works exist and of these Tertium Organum (for many years a best-seller in America) and A New Model of the Universe were written and published in Russia before Ouspensky met Gurdjieff in Moscow in 1915. All the others represented his statements of Gurdjieff's teaching, and were published posthumously. With the exception of In Search of the Miraculous, which he worked over carefully and which was published under the authority of Gurdjieff himself, these later books were never intended by Ouspensky for public circulation. In spite of the invaluable contribution they make to Gurdjieff's teaching, they do less than justice to Ouspensky as a writer.
Strange Life of Ivan Osokin is an early work. Originally a novel but later rechristened "Cinemadrama" in the early days of films, Ouspensky himself set considerable store by it, perhaps because it was the only purely imaginative work by a mind that was rigorously honest in facing up to the usual abuses of human imagination.…
[The complete text is available in the printed copy of this issue.]