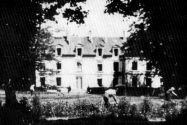 Excerpts from
Prospectus Number 1
G. Gurdjieff's Institute for the Harmonious Development of Man
Main Branch: France Fontainebleau
(Formerly "Chateau du Prieuré")
The Institute for the Harmonious Development of Man by the G. I. Gurdjieff system is practically the continuation of the Society that went under the name of the "Seekers after Truth." This Society was founded in 1895 by a group of various specialists, including doctors, archaeologists, priests, painters, etc., whose aim was to study in close collaboration so-called supernatural phenomena, in which each of them was interested from a particular point of view.

During the existence of the Society, its members undertook many very difficult journeys, mostly in Persia, Afghanistan, Turkestan, Thibet, India, but also in other countries. They also undertook a good deal of work of various descriptions in connection with their object, which involved much labor and organisation.

Throughout the period of travel and work many of the Society's members lost their lives, while others from time to time abandoned the task, and only a small number returned to Russia in 1913, under the leadership of Mr. Gurdjieff.…
[The complete text is available in the printed copy of this issue.]
Copyright © 1923 G. I. Gurdjieff
This webpage © 1997 Gurdjieff Electronic Publishing
Featured: Fall 1997 Issue, Vol. I (1)
Revision: January 1, 2000