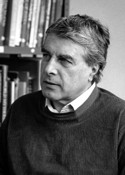 Paul Reynard


1927–2005

Paul Reynard joined a small group in Paris led by Henriette Lannes in 1946. He began to practice the movements in 1947 with Jeanne de Salzmann, and joined the senior class under the direction of Mr. Gurdjieff that fall. He began as a movements instructor under Marthe de Gaigneron, and in 1969 began to lead classes at the Gurdjieff Foundation of New York and other US as well as Canadian Gurdjieff Foundations.
Paul Reynard - by Bill Jordan
Born in Lyon, France, Paul Reynard met Mr. Gurdjieff in 1946. After moving to New York in 1968, he carried responsibility for the Movements in the US and Canada. He also served as Co-President of the Gurdjieff Foundation of New York.
Reynard reminds us that the movements invite us to discover a new attentiveness and the opportunity to be both present and open to a new level of consciousness.
First published here, Paul Reynard presents an all-encompassing perspective of attention. "What is attention? But trying to find a rational definition of this word is as hopeless as explaining a koan, and the only way to understand it, I believe, will come not from expounding, but from staying in front of the question."
This webpage © 2020 Gurdjieff Electronic Publishing
Photo © 1988 David Heald
Revision: March 1, 2020