Syllabus Bookmark

for Beelzebub's Tales

As an aid to approach the book Beelzebub's Tales to His Grandson, a reading group in northern California developed a syllabus. The group met weekly over a period of several years, and, starting from the beginning of the book, chose a set number of pages to be read by each member before the meeting, then read again aloud at the meeting. It became clear that 15 pages per week set a good pace and took approximately 45 minutes to read aloud. As the readings progressed, the number of pages for each week was adjusted to take advantage of natural breaks in the subject matter and to minimize breaking in the midst of material where continuity was important. After the reading, notes were taken if the breaking point needed adjustment.

When the group finished, the syllabus was printed as a single, two-sided bookmark, cut specifically to fit the book and covered with a protective, plastic coating. The pagination applies to the original translation. The syllabus breaks the book into 81 separate readings. The bookmarks are available for $2.00 each and can be ordered from our Store.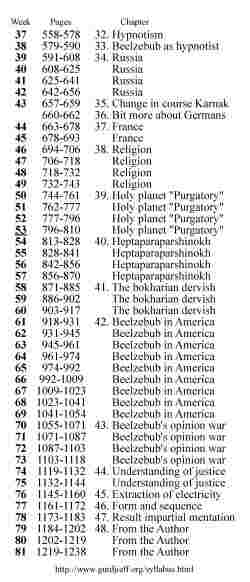 Copyright © 1998 Gregory M. Loy
This webpage © 1998 Gurdjieff Electronic Publishing
Revision: April 1, 2000