The Same Old Trick

The Taxing of Jean Toomer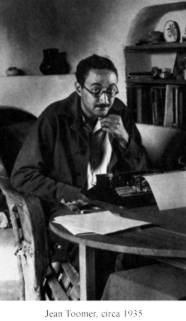 I have always thought, that Gurdjieff used the money thing as a lever with which to work on you—one of the few and most effective ready-made levers available to him in relation to you, as you live under a system of private ownership and difficult peculiar finances, in short, under the capitalistic order, or disorder. Not that he does not want the money, but that he achieves two results, one for himself, one for yourself, by use of the one means.
One surely must think twice and again and again, before hardening and fixing the belief that Gurdjieff is after money only. To me, this belief never has and does not now seem tenable. Surely also, if one has feeling for the work and good will towards him, one must be on the alert so as not to refuse help if and when the call 'Wolf, wolf,' really means wolf.
You find your mind and psyche going through gymnastics which require your inner world to perform feats of coordination and endurance quite similar to those required of the body in the exercises and dances demonstrated by Gurdjieff and his pupils when he first came to this country in 1924. Witness myself. This that I have written and much more was stirred up in me owing to the fact that I was asked for an additional three hundred [dollars] in the circumstances I have described. Not every day does one experience such a plowing.…
[The complete text is available in the printed copy of this issue.]
~ • ~
These excerpts are extracted from the Jean Toomer Papers located in the Beinecke Rare Book and Manuscript Library, Yale University, and are published here by their kind permission. They were previously published in The Gurdjieff Journal (formerly Telos), Vol. 4 Issue 4, Arete Communications and were provided through the courtesy of W. Patrick Patterson. The photo of Jean Toomer is by permission of Margot Latimer.