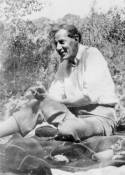 Brother in Elysium: Orage in Gurdjieff's Service

by Paul Beekman Taylor

Reviewed by Michael Benham
Building on his previous book, Shadows of Heaven: Gurdjieff and Toomer (Samuel Weiser, 1998), Taylor has utilised primary documents to reconstruct Orage's account of the crucial 1923–1931 period he spent "in Gurdjieff's service." He provides both a significant contribution to the historical record as well as a more balanced assessment of Orage and his contributions to Gurdjieff's work than the literary biographers who considered Orage's involvement with Gurdjieff an aberration. The book has been written with the cooperation of Orage's descendants who allowed the author full access to the family's private papers. These comprise the almost daily letters Orage and his future wife Jessie exchanged beginning in January 1924 during their periods apart and Jessie's diary begun in 1924, supplemented by Orage's personal correspondence with Gurdjieff, Jean Toomer and members of Orage's American groups. Taylor acknowledges that the book is really their book "told in the words of Orage and Jessie" and modestly adds that he has simply "translated their words into book form and added complementary notes." This is an understatement.…
[The complete text is available in the printed copy of this issue.]
Copyright © 2000 Michael Benham
Photo of Orage courtesy of Anne B. Orage, used by kind permission
This webpage © 2000 Gurdjieff Electronic Publishing
Featured: Spring 2000 Issue, Vol. III (2)
Revision: October 1, 2000