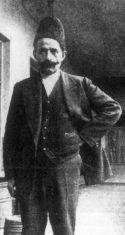 Gurdjieff

An Original Teacher

by J. Walter Driscoll and George Baker

Gurdjieff was an abrupt awakener. Since his death in 1949, his ideas, teachings, writings, music and contemplative dances or gymnastics called 'Movements' continue to provide opportunity for essential insight in the never-ending, moment by moment struggle for self-knowledge and self-understanding. Gurdjieff summons us to transformation by showing how to focus our attention on the reality of our inner being and the outer life it attracts.

On January 13, 1949, Gurdjieff was in New York City and announced (on what proved to be his last birthday) his decision to publish Beelzebub's Tales to His Grandson. This was a complete departure from the practice he had followed for almost four decades of expounding his teaching orally and circulating his writings privately. He died on October 29 of that year, hardly a week after receiving the publisher's proofs for Beelzebub's Tales.…
[The complete text is available in the printed copy of this issue.]
Copyright © 1997 J. Walter Driscoll & George Baker
This webpage © 1997 Gurdjieff Electronic Publishing
Featured: Fall 1997 Issue, Vol. I (1)
Revision: January 1, 2000