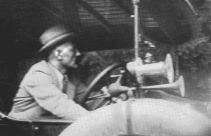 Editorial Introduction

Special Issue on Le Prieuré
Owing to the conditions of modern life, man has departed from his original type, that is to say from the type he should have become by virtue of his surroundings: place, society and culture in which he was born and nurtured.

By their very nature, these conditions marked out for man the paths of development and the final normal type to which he should have attained. The civilization of our time, with its unlimited means for extending its influence, has wrenched man from the normal conditions in which he should be living.…*
What are these normal conditions in which we should be living? The creation of an environment whereby such normal conditions could be introduced into the daily lives of its participants was certainly a factor in Gurdjieff establishing his "Institute for the Harmonious Development of Man" at the Château Le Prieuré des Basses Loges at Fontainebleau-Avon.
Having migrated for four years after escaping the 1917 Russian revolution with dozens of followers and family members, Gurdjieff settled in France and established his Institute on October 1, 1922. Although he retained ownership of the property until the Spring of 1933, the Prieuré was the scene of particularly intense activity from October 1922 to August 26, 1924, when Gurdjieff formally disbanded the Institute during his convalescence from a near-fatal automobile accident.
This issue presents seven historical reminiscences by people who were at the Prieur&eacute, some for only a weekend and others for prolonged work with Gurdjieff. These articles describe activities at the Prieuré during its peak in 1923 and 1924, from contrasting points of view. Some writers comment with great understanding and some with critical reserve or journalistic disdain. However, for those who can read in between the lines, all the articles offer a unique insight into Gurdjieff and the conditions he established for work.
We also include a jaunty journalistic account of Gurdjieff's visit to a Movements demonstration in New York in January 1924, only three months after he established his Institute. This is followed by a review of P. D. Ouspensky's In Search of the Miraculous by Bernard Metz who was Gurdjieff's secretary and translator for about a decade. Dennis Lewis provides a thoughtful review of John Pentland's posthumous collection of talks, Exchanges Within. We close this issue with the second installment of an unpublished three-part round table discussion about Good and Evil that was led by A. R. Orage in November 1927.
It is certainly encouraging to receive so much positive feedback and support for the site, both in the form of the generous contribution of material and the 'hands on' assistance we have received from several readers. We launch this issue with particular thanks to Laura LeLievre, Aubrey Paull, June Loy and others who wish to remain anonymous.
Greg Loy
J. Walter Driscoll
* from the prospectus of G. Gurdjieff's Institute for the Harmonious Development of Man